Follow channels and content to receive notifications about them. Notifications generated from followed channels and content will appear in the Feed tab of the app.
Sections in this article:
Considerations and caveats
Who can do this: Any member of a digital workplace.
Notifications:

When you subscribe to content using the app, the subscription will have a frequency of Instant.
You can control whether your receive email and push notifications for these subscriptions in addition to notifications in the Feed tab; see Managing your push and instant subscription email notifications in the app.
When subscribed to a channel, you will receive notifications when:

New content is added to the channel.
Edits are made to the channel.

When subscribed to content, you will receive notifications when:

Edits are made to the content.
Comments are made to the content.
The content is moved to a different channel.

Favoriting: If you want to keep an eye on a channel but don't want to follow and receive notifications, you can Favorite the channel instead to make it accessible from the Favorites tab.
How to follow channels and content
Select
Ellipsis while on a channel or content to display follow options. When on content, you can choose to follow the current content and/or the channel where that content resides.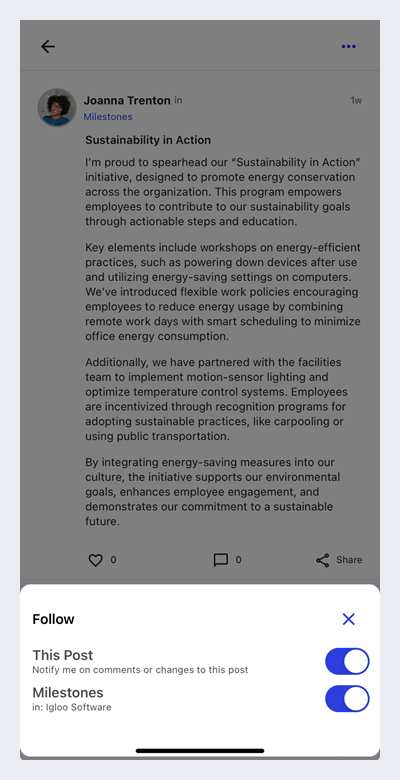 Navigating to a channel using search
If you want to follow a channel that you know exists in your digital workplace, but you have never favorited or received content from, you will need to find it using search. While viewing any tab other than Web tab:
Tap Search (upper right corner of the app).
Enter the name of the Channel that you want to follow.
Tap Search, or tap any of the recent search suggestions, to perform a search.
If the search defaults to the People, tap Content to view those results.
Tap a search result to go to it.