The Actions button gives you access to the administrative tools for each page and various features within your digital workplace. These tools allow you to edit the current page, view subscriptions, change access and much more.
On all content types, excluding calendars, the Actions button resembles a
 cog. In other locations, it appears as a
 downward-facing arrow. The menu options displayed after selection Actions will change based on your location and access level.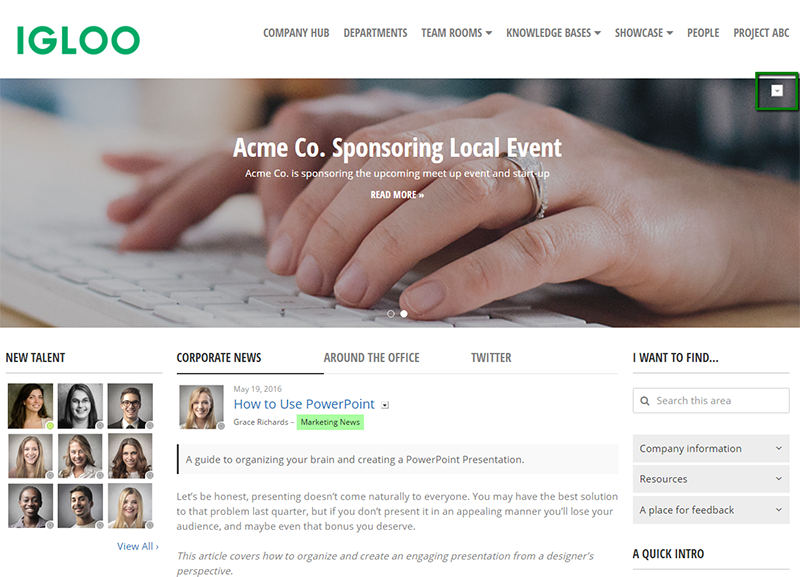 Select the Actions button to access the following menu options. The options presented will change based on your location and access level.
Features and functionality
Our platform is simple and intuitive but that doesn't mean its capabilities are limited. There are a number of ways that you can use our platform to do exactly what you want. Below is a list of all additional features found within this particular feature or function.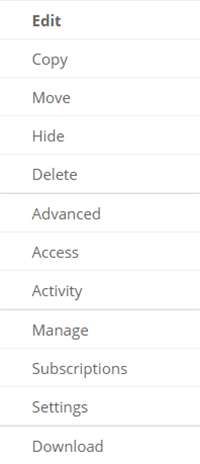 Advanced
Here you can configure options related to Search Engine Optimization, such as Page Title, Meta Description, and Meta Keywords (refer to the image below). You can use Google's Keyword Tool to help you generate proper keywords for your web page. In addition, you may configure the following search engine parameters.
There is also a field for entering JavaScript that will run on that page.
Access
Here you can set user access. Please review our documentation regarding Access for more information.
Activity
Here you can view the audit trail of creation, edits, and changes that have happened in this location. For more information, please see the Activity article.
Manage
In this section, you will see a history of drafts, published and unpublished items. This area is particularly useful if the item is being moderated. For information on how moderation works and how to configure it, please read our article on Moderation.
Subscriptions
Subscriptions allow you to configure automatic content following options on a channel based on group membership. See the article on Subscriptions for more detail.
Channel template
Channel templates let you easily post content using a pre-populated HTML form. They are typically used in areas inside your Igloo that have a standard format for how information should be presented, how data should be entered, or where easily repeatable and replicated content is required. Users can create channel templates for blogs, calendars, wikis, forums, and tasks. See the article on Channel templates for more information.
Settings
The following options are located under Settings and have their own dedicated articles. Please select an item below for more information:
Frequently asked questions
Why can I not see an Actions button?
The most common reason for Actions buttons not appearing is inadequate access. In most places, you will need at least Edit level access to see an Actions button. See the articles on Access for more information.
Are there direct links to the Actions button items?
Direct links exist in the form of query strings that can be appended to the end of the URL. Ex:
http:

//myigloo.igloocommunities.com/page?action=xyz
List of available query strings:
List of available actions:
?action=edit - Edit a page/item
?action=advanced - Access Advanced area of a page
?action=access - Access the Permissions area of a page
?action=subscriptions - Access Manage Subscriptions
?action=activity - View the audit trail
Additional actions are available for channels:
?action=manage
?action=templatesettings
?action=settings