Your digital workplace supports content archiving and retention schedules. Content that is no longer relevant to the needs of your digital workplace members can be easily archived. This feature allows you to manage workplace archiving policies and view content that is archived or in queue to be archived. Only workplace administrators can access the Manage Archive feature. However, space administrators can view the queued and archived content of their space.
Sections in this article:
Features and functionality
The following features are found in the Manage Archives area:
Queue
The Queue displays the items that are scheduled to be archived. If you need to prevent an item from being archived, select Do not Archive. If you need to postpone the archiving of a content item, select Postpone. A prompt will be displayed allowing you to select when to Postpone the archival for.

Archive
This displays the items that have been recently archived. From here, it is also possible to restore content that has been archived.

Retention Policy settings
This allows you to create rules to archive content for blog articles, calendar events, files, forum posts or microblog posts. You can set the rule to work a given number of days, weeks, months, or years following a specific event relating to that item.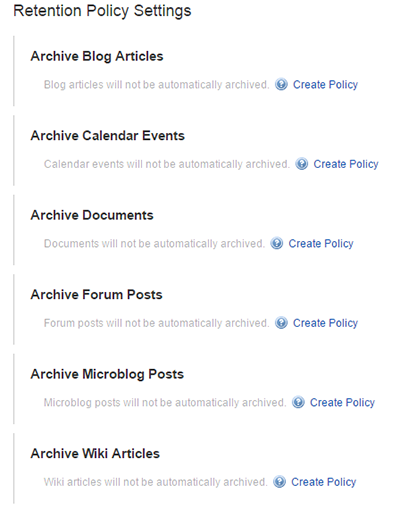 The following combinations of rules can be seen below.
| Action | Blog Article | Calendar Event | Document | Forum Post | Microblog Post | Wiki Article |
| --- | --- | --- | --- | --- | --- | --- |
| Last comment | ✔ | | ✔ | ✔ | ✔ | ✔ |
| End of event | | ✔ | | | | |
| Publish date | ✔ | | ✔ | ✔ | | ✔ |
| Last version | | | ✔ | | | ✔ |
| Post date | | | | | ✔ | |
Enable archiving for the following content types - This allows you to select the content types that will allow archiving.
Grace Period: Rather than being archived immediately, items are placed in an archiving Queue for a grace period. This setting allows you to set the grace period (1-15 days).

How to create an archive policy
Follow the steps below to create an archive policy.
Select Control Panel.
Under Overview, select Manage Archive.


Select Global Settings and scroll down to the Archive section. When you select the content types listed, this enables you to create retention rules for them in their respective areas above. You can also select the Grace Period here from this area.


Create retention rules by selecting the dropdowns beside the tool listings. To remove a rule, select the X beside the rule.
Frequently asked questions
How do I enable archiving?
Archiving must be enabled in your digital workplace's global settings. Individual channels can be configured to utilize the global archiving policy from this feature or a different policy as required.
Can space administrators manage the archives for the content within their space?
Space administrators can view queued and archived content in their space. They can also set archiving policies on channels and content within their space.