Share news and updates with other members of your digital workplace by creating a new microblog post from any tab in the app. Members who follow the microblog channels that you post to will receive a notification and see the post in their feed.
Considerations and caveats
Who can do this: Digital workplace members can post to any microblog channels that they have at least write access to.
@mentioning: When posting to a microblog you can

@mention

other members of your digital workplace.

@mentioning

a member results in them receiving a notification with a link to where they are

@mentioned

. To

@mention

a member, type @ and then begin typing the member's name. As you type, a menu will pop up from which you can select who you want to

@mention

.
App Permissions: You must give the app permission to insert images into your post from your device's camera or storage.
Attachments: You cannot add attachments to microblog posts made with the app. If you want to add an attachment, consider creating the post from the Web tab of the app.
How to post to microblogs using the app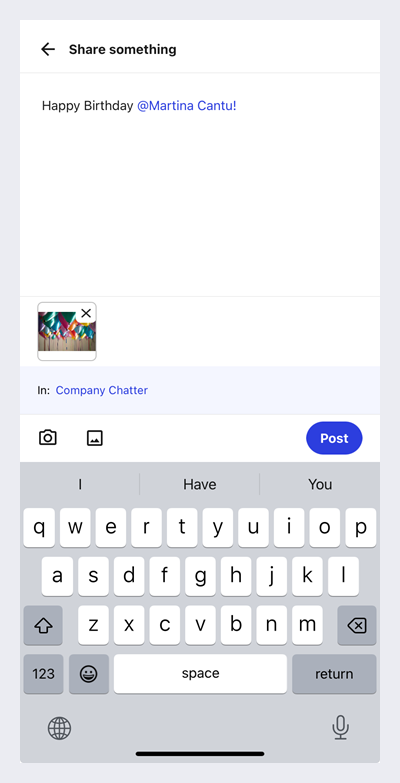 Tap Share something.
Enter your message.
(Optional) Tap Take a photo to take a photo with your camera and add it to the post.
(Optional) Tap Add an image to add an image from your device to the post.
Tap Select a channel.
Select which microblog channels to post to and tap Done. If you have previously made a post, you will be shown a list of your recent microblog channels. To quickly find a channel, use Search channel found at the top of the screen.
(Optional) Tap the list of microblog channels at the bottom of your post to change them.
Tap Post.