Find people and content in the app using the built-in search functionality.
Considerations and caveats
Who can do this: Any member of a digital workplace.
Web tab vs. other tabs: Searching from within the Web View tab provides different functionality compared to searching from other tabs. For more information, see Search.
Searching past subscription notifications: If you know you recently received a subscription notification for the content that you want to find, you can search only that feed instead of the entire digital workplace, see Searching your subscription notification feed in the app.
Default search behavior: While search will return related content and people, it separates these results into two tabs. Depending on where you initiate your search, one of these tabs will be the default:

Your search results will default to showing content when performing a search from the Feed, Notifications, or Favorites tab.

Your search results will default to showing people

when performing a search from the People tab.

Search results: Your search results will not include the following:

Content that you don't have access to
Task Channels and Tasks

Pages and spaces in search: Selecting a page or space will open it in your mobile device's web browser while selecting content and channels open them in the app.
Ordering of search results
Search results are returned based on an algorithm for relevance with a few influencing factors.
Term frequency
Exact term matches over near matches.
Terms in titles are weighted more than terms in labels and the body of the content.
Post date and activity on content also impacts the order results appear in.
Additionally, if your search query contains a keyword that is tied to a Recommended Result, that recommended content will appear at the top of your search results list.
How to search for people and content in the app (non-Web View)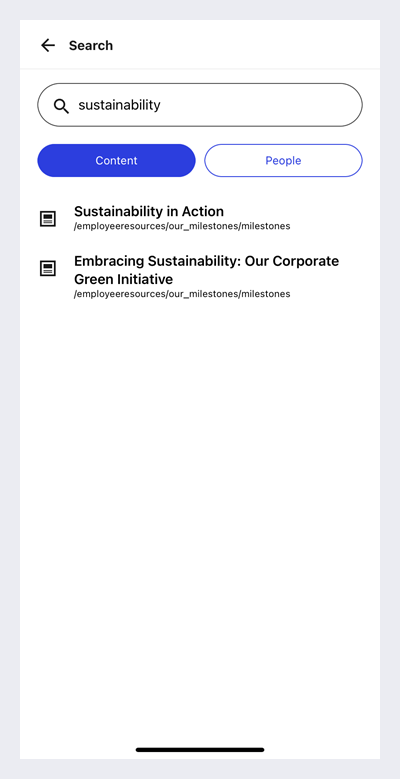 In the top right corner of the app, tap Search.

Enter a search term.

(Optional) Tap People or Content to switch between which results to show.
Tap a search result to go to it.